Temperature Monitoring for Fleets via Mobiles
Do you have a business where temperature matters? Great, this article is something you may be interested in! We are working on a new solution to help fleets protect their goods and take more control of everyday processes.
What are we working on?
We would like to develop a wireless temperature monitoring solution for fleets to control the temperature of your vehicles, truck cabins, assets, freezer or chiller trucks locally or remotely in real-time!

While our solution is only in alpha, which means it's in an early state, so not available for public use just yet, but our team is working on it already. If we find our solution stable and useful, we will start a public beta and from that time any of our registered members can start testing our temperature monitoring service.
CorvusGPS is working on an integration of a Bluetooth Temperature Monitoring beacon which can help us measuring and monitoring the temperature at different locations, even if it is continuously moving like truck cabins, cargos, assets and more. The measured data is not only displayed for the drivers, it can be uploaded to our server for logging and remote monitoring.
Bluetooth Beacon with Temperature sensor
New gadgets coming up every day, we have more and more options to measure our environment easily, smartphones are more stable, faster and popular each day. Achievements of technology opening new possibilities creating better and smarter solutions.
Basic features that may arrive soon:
Temperature monitoring on mobile for Drivers

Remote temperature monitoring for Dispatchers staying in the Office

Temperature logging, tracking, filtering

High and low-temperature alarms on mobile and also on remote devices
What will you need for temperature monitoring?
Android cell (4.3.2 or higher) with internet connection

EverTrack app

Bluetooth Thermometer beacon from CorvusGPS.com
No pairing, No connecting, No other app installs! Can it be that simple?
Yes! You only need to stick the sensor to any surface and you are ready to go! The sensor is working from battery for several years, so you can forget about it for a long time. The Bluetooth thermometer connects to your phone where EverTrack app receives and processes the data. After the data processed – the app will upload it to CorvusGPS.com's server for real-time remote monitoring.
The Bluetooth beacon in numbers
Range: Up to 500m (receive signals through the walls of a refrigerator truck)
Size: Diameter: 5,2 cm, Height: 1 cm
Battery life: Several years (depends on usage)
Temperature range: From -40ºC (-40ºF) to +85ºC (+185ºF) with special battery.
Measured data: Temperature, Humidity, Air Pressure
Temperature accuracy: 0.5 C°
What is it used for?
I think there are countless variations of how, why and what we can measure with wireless temperature sensors, but let's check a few of it:
Chilled trucks / Refrigerator trucks / Freezer boxes

Cargo holds

Driver and passenger cabins

Food delivery services

Cabins of heavy vehicles

Agricultural machinery

Food vans / Icecream vans
Do you have any other idea how you can use a Wireless Thermometer?
Tell us in the comments below…
Regards,
Zoltan
You don't have an account yet?
Visit CorvusGPS.com and start your free trial.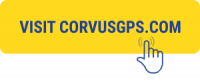 Latest posts by Zoltan Sardi
(see all)