EverTrack Mobile GPS Tracker will get new features soon. Now we need your help to make a better application. We are waiting for your ideas and comments… Your opinion is important to us. Thanks for all your help!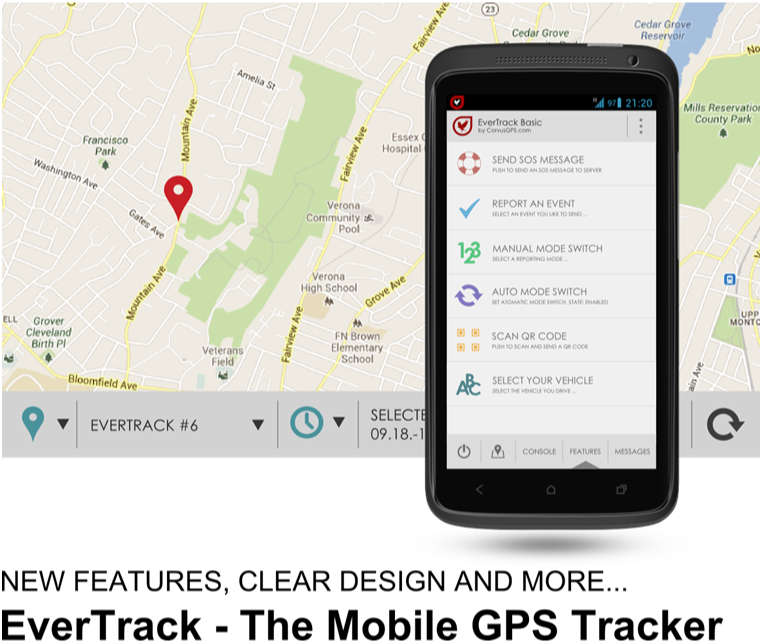 CorvusGPS Team is pleased to announce that the beta version of EverTrack GPS Tracker is available at Google Play store since the middle of summer. We already have more than 5000 installs and the application have really good feedbacks and 4.3 star review.
Over the last several months we've worked very hard on improving stability and reliability of the server, mapping software and the user interface but now we like to work on EverTrack again and create more features and the final design of the application.
DO YOU NEED MORE FEATURE OR HAVE AN IDEA?
PLEASE WRITE A COMMENT OR GET IN CONTACT WITH US!
EverTrack's beta version will the engine of the final version of CorvusGPS.com's GPS Tracker application and now we create a smooth and well-designed user interface with useful features. Let's see our ideas and the whole conception.
Main Screen
The main screen contains the most used features like SOS, Event Report, Mode Switch, QR code scanner, Driven vehicle selector and more… Some of these features will available only in the future, but we like to create an interface where we can integrate these features anytime with ease.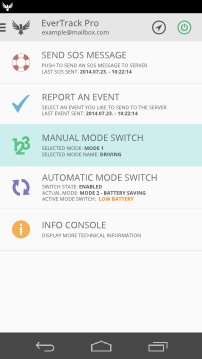 Console
The think that the Console feature is also important for many of our users, so we keep it and write a little bit more information about the trackers location, reporting mode, active modes and other parameters.
Messages
The Messages feature will only come later, we will create it only in the next version of EverTrack, but we like to keep the possibility of the integration of a Messaging interface. It will really useful for companies who like to follow and manage their vehicles and employees in real time.
Mapping
The mapping application is under development we started to work on it a few days ago and when it's finished we will also integrate it to EverTrack so if you have an EverTrack installed to your mobile or tablet you don't need to download another application to follow your devices. The mapping app lets you follow your device or group in real time with displaying the last known position. It can also refresh the position manually or automatically. Later we will also integrate the "History Map" feature to check earlier positions from your tablet or cell phone.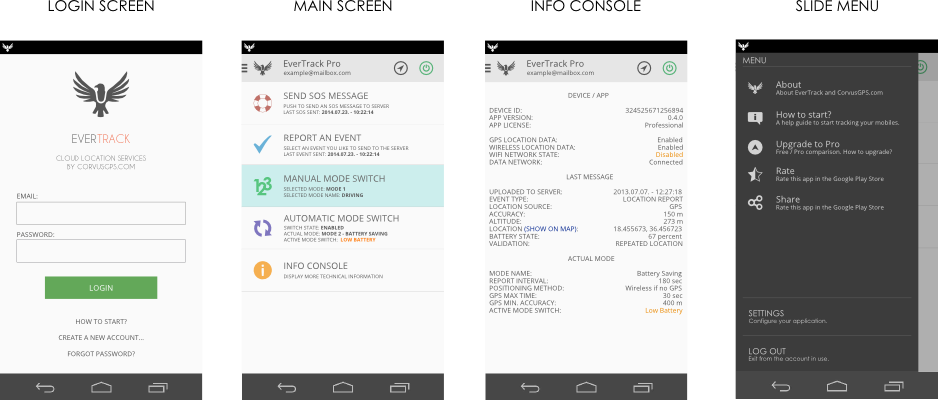 More features
The new EverTrack will allow the users to register a CorvusGPS account from the application and it will automatically add the phone to the system so in the new version you don't need to visit corvusgps.com to register an account and don't need to add the device manually. This way will much easier and user-friendly than the old version.
Try our mobile tracking apps for Android and iOS now!
Thanks for reading this article. For more information about our services, please visit our Home Page.
If you find this article interesting please do not forget to share with your friends and colleagues.
You don't have an account yet?
Visit CorvusGPS.com and start your free trial.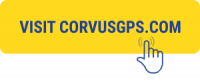 Latest posts by Zoltan Sardi
(see all)